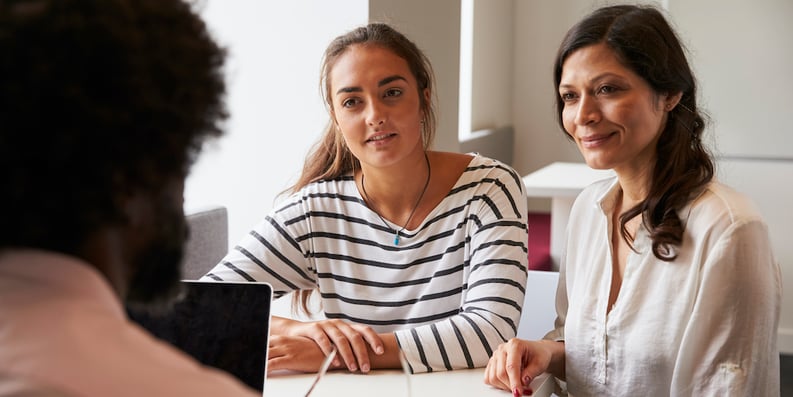 Stressed out by the school application process? You're not alone. For many families, the prospect of researching, visiting, and applying to multiple schools in the hopes of finding the one is simply overwhelming. Perhaps that's why an increasing number of families are seeking the assistance of an educational consultant.
Educational consultants are independent consultants who help families navigate the school admission process, and according to a 2016 report from the Independent Educational Consultants Association (IECA), almost half of consultants surveyed reported a greater than 25% increase in their client base in the past two years. It's a trend driven by both the arduous application process and the competitive admissions climate, explains Jennifer Bush Evans, an educational consultant and president of VJB & Associates Asia Pacific. "There are so many kids applying to these schools, and the competition is so intense that families are feeling pressure to apply to more schools because gaining admission is not a given."
So who are these in-demand admission experts--and do you need to work with one?
Do I need an educational consultant?
Not necessarily. Some schools, like Fay, have a dedicated secondary school counseling staff that helps students select schools where they are likely to be successful, and counselors guide the students through the admissions process from start to finish. However, for families without that resource, there are a number of situations in which an educational consultant can be helpful.
As mentioned above, many families choose to hire an educational consultant because they are overwhelmed by the process and would rather outsource it to a dedicated professional. International families, unfamiliar with their options, may need help figuring out which schools to focus on and what grade their child should enter in the U.S. system.
An educational consultant can also be useful when a student has a diagnosed learning difference. Beth Whitney, Director of Admission at Fay School in Southborough, MA, the oldest junior boarding school in the United States, notes that sometimes she will receive a "preview" of a student from an educational consultant seeking to determine whether Fay is a good fit for their client. "I'll meet with our Director of Learning Services to go over the testing and either green light the application or let the educational consultant know that Fay might not be the right school," she says. "It may not be welcome news, but that consultant just saved the family the time and effort of going through the entire admissions process when it's not the right school for that child."
What can I expect an educational consultant to do for me?
Most educational consultants offer an array of services to choose from, but the first step will be to get to know your child so that they can suggest a list of schools that matches that student's abilities, needs, interests, and passions.
When you start talking about schools, you'll find that everyone has a friend or a relative who went to a particular school and an opinion to share, notes John Gray, an independent educational consultant based in Wellesley, MA. "Schools change over time, and what was true 20 years ago may not be the case today."
A good educational consultant will have an in-depth, personal, and current knowledge of each school. He or she will know the strengths and weaknesses of the academic program and should be well-versed on the sports and arts programs that each school offers, as well as the cultural environment at each school. The educational consultant will synthesize all that information with their knowledge of the child to create a list of appropriate schools.
For some families, the relationship ends there, but for families that want more comprehensive guidance, educational consultants can also attend school visits, prepare a child for the interview, supervise and provide feedback on the application and school essays.
A good educational consultant can also draw on established relationships within admissions offices to help present their client in the best light. If a student's grades dipped precipitously in sixth grade, for example, the educational consultant might get the Director of Admission on the phone and explain the challenges that student overcame to get back on track. "Every admissions director wants a kid with some scrappiness and internal fortitude," says Mark Sklarow, CEO of the IECA. That black mark just became an asset.
What are the keys to making this relationship work?
Good communication is crucial between the educational consultants, parents, and student. "It should be a collaborative process," says Virginia Bush, CEO of VJB & Associates. "We are available to our clients 24/7, year-round." However, parents also have to be open to the advice they receive. "Some parents have high expectations, and some parents have unrealistic expectations," says Vanessa Wilcox of Wilcox Educational Consulting in New York City. "I never say 'no' to a school because sometimes a student can get motivated and have a great year, but I try to be fair and get parents to take a fresh look at their options."
How do you select the right educational consultant for your family?
First, make sure that the educational consultant has experience with the schools that you are considering. Make sure they have visited all the schools in person, ask how recently they were there, how successful they have been in having clients admitted to those schools, and how they maintain their relationships with the admissions offices. Identify the aspects of the application process that you want help with, and ensure that they can meet those needs. A good measure of an educational consultant's level of professionalism is to check ask whether they are a member of the IECA, which requires its members to agree to a set of ethical guidelines called "Principles of Good Practice."
And don't be afraid to talk about money. According to the IECA, 90% of educational consultants do some pro bono work, and 43% indicate that they give their clients advice on applying for financial aid. If a family indicates that they expect to apply for financial aid from the school, educational consultants will often also adjust their fee accordingly.
Finally, remember that an educational consultant should never be considered a necessity for any family. "I encourage families to contact me or anyone on the Fay Admissions staff directly," says Beth Whitney. "We are always happy to talk to prospective families and answer their questions.
If you do decide to engage an educational consultant, keep in mind that a good consultant will keep your child at the center of the admissions process, says Cammie Bertram, Certified Educational Planner and President of The Bertram Group in Westport, CT, "My whole objective is to find a school where the child can experience success on every level: academically, socially, and emotionally."
What red flags should I watch out for?
• Beware of "dabblers," people who offer to help you because they were successful at placing their own child in a good school. Look for a professional that is a member of the Independent Educational Consultants Association (IECA) to ensure they are experienced and are following the industry's ethical standards.
• Don't hire a consultant that offers to fill out the application, write recommendations, or essays for your child. "Don't take the easy road - you'll regret it!" says Jennifer Bush Evans, President of VJB & Associates. "Kids grow so much in this process, and you don't want to cheat them out of that." Schools are also wary of applicants whose essays sound like they were written by a 40-year-old. "We can tell when an application essay is written with a completely different style than their SSAT writing sample and that's a red flag for us," says Beth Whitney, Director of Admission at Fay School in Southborough, MA..
• Be suspicious of any consultant that guarantees admission into a particular school. "A good consultant can read the tea leaves, but they can't help with the student's current grades or their teacher recommendations," says John Gray, an independent educational consultant based in Wellesley, MA. "There are a lot of ways in which the process can go south that have nothing to do with the consultant."
Want to learn more about Fay School? Let us know!