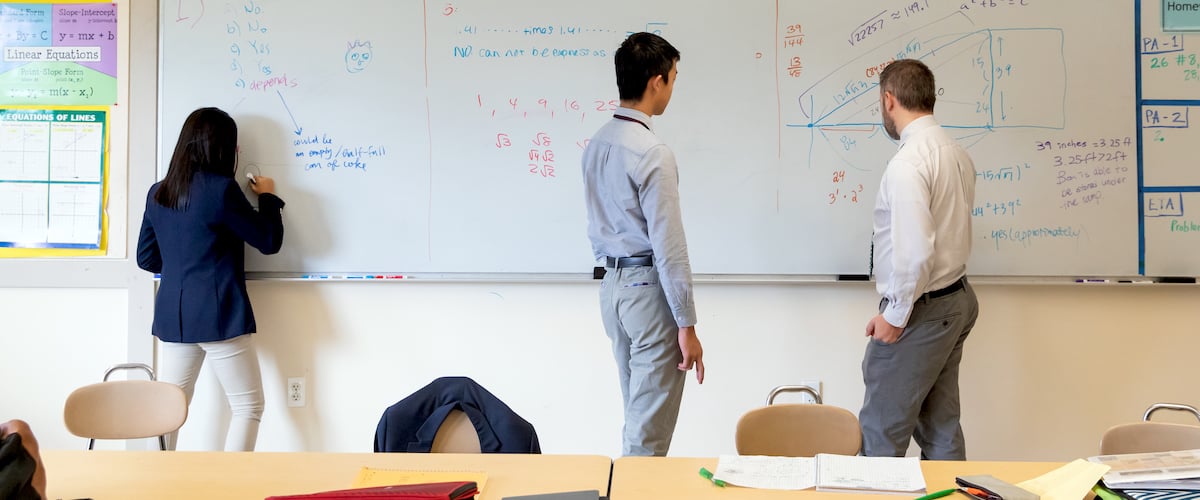 It's impossible to talk about homeschooling without first acknowledging that parents choose to homeschool for a wide range of reasons and that there is no "one size fits all" approach to a homeschool program. Just as diverse are the many reasons why parents may choose to transition to a traditional school environment at some point in their child's schooling. The impetus could be a change in the family's schedule, a desire for increased social stimulation with their peer group, or the need to prepare the student for a mainstream high school or college experience.
Transitioning to a private middle school for the seventh or eighth grade--or to a school like Fay that also offers a capstone ninth grade program--can be a great way to manage the transition to a traditional school environment while maintaining the academic rigor and specialized attention of a homeschooling experience. Here are some features to look for as you consider making the transition.
A differentiated program
Differentiating instruction--the process of modifying curriculum to meet the specific needs of each learner--is one of the greatest benefits of a private school setting. As Fay's Senior Associate Director of Admission Susan Mantilla-Goin notes, when a school is able to offer a breadth of courses in a specific discipline, odds are greater that students will have an experience that is appropriately challenging. "In Upper School, Fay students are placed in the math and foreign language classes that are most appropriate for them based on the results of placement assessments," she explains. "Even if most of their age peers in public school are going into pre-algebra, a student who is ready for algebra or geometry can do that here at Fay."
Small class sizes
For students moving from a homeschool experience to a traditional classroom setting, perhaps the biggest adjustment is getting used to being one of many in a classroom. Finding a school that makes small class size a priority can ease that adjustment. At Fay, for example, our average class size of 14 means that every student is an active participant in the learning process. In our Lower School, small class sizes enable teachers to address students' differing skill levels, particularly in math and world languages. As you consider whether to make the shift to a traditional school setting, look for classrooms where teachers are able to organize students into work groups based on skill level and where teachers have the time (and the inclination) to conduct one-on-one conferences with their students. Consistent and timely feedback is key to steady learning.
A focus on "how to learn"
Many families who opt for homeschooling make this choice in part because they want to instill family values of hard work, effort, and organization. As you consider the transition to a more traditional school setting, look for schools that share these values. Many private schools--Fay among them--emphasize effort and actively teach the skills of how to be a successful student. Here at Fay, for example, students receive effort grades every two weeks in each of their subjects. "Effort grades show students that the level of effort they put into to their schoolwork does count and that we value it," says Fay's Assistant Director of Admission Andrew Ferrara. "They're not just striving for a grade - our students are learning how to push themselves."
Opportunities to develop new interests
One of the great benefits of homeschooling is the ability to tailor curriculum to an individual student's particular interests. As they transition to traditional school, many homeschooling families want their children to continue expanding their horizons, exploring new hobbies, and developing new skills. With this goal in mind, it's important to find a school that embraces this approach rather than forcing kids to specialize too early.
At Fay, for example, all students participate in sports each term, and our "no cuts" policy ensures that all students have the opportunity to play their sport of choice on a team that's a good fit, whether they're a beginner or an elite player. Music and visual arts courses remain part of the regular student schedule throughout ninth grade. And opportunities to participate in the spring musical are scheduled so they don't conflict with sports or other commitments, like robotics or dance.
Emphasis on communication skills
The opportunity for students to adapt to a discussion-based classroom environment and learn how to collaborate with others is also appealing to many families transitioning out of homeschooling. Look for schools that make collaboration and communication a priority rather than assuming that students can learn these key skills without direct guidance and instruction. At Fay, for example, opportunities to collaborate in small groups is a hallmark of the classroom experience.
Parents should also be on the lookout for a school community that embraces diversity and gives students authentic opportunities to experience and consider multiple perspectives. At Fay, for example, our uniquely diverse student community includes students from more than 25 countries, states across the U.S, and 44 Massachusetts cities and towns. Classroom discussions - whether they're about history, literature, or current events - are enriched by our students' broad range of experiences and points of view.
A great school should also be developing students' communication skills by providing multiple opportunities to develop and practice public speaking skills. Nearly 25% of adults report a phobia of public speaking - a disturbingly high percentage if you consider that all adults at one point or another will need to convey ideas clearly and persuasively to others. At Fay, the public speaking program begins early, in third grade, so students can build their public speaking skills in a sequential and developmentally appropriate way. From grades three through nine, students write, edit, and deliver a personally-crafted speech in front of the school community each year. Every year the speeches range from laugh-out-loud reflections on life in middle school to poignant stories about family and world events. The speeches at every level are a celebration of the unique voices and perspectives that make up the Fay community.
A focus on the future
For many homeschool families, a natural time to transition to a traditional school setting is high school - but it might also be worth considering the benefits of a year of middle school in order to make sure that your child is well prepared, academically and socially.
Here at Fay, our eighth and ninth graders also benefit from the support of a dedicated staff of experienced secondary school counselors who shepherd families through the secondary school admissions process. "Our experts help each student craft a list of appropriate schools, prepare for the interview process, and show them how to present themselves and their accomplishments in a meaningful way," says Susan Mantilla-Goin.
A web of support
Parents transitioning from homeschool to traditional school settings should look for a school that provides a web of support to help students navigate through the elementary and middle school years. That web of support should encompass not just the faculty and administration, but can also include a variety of programs, such as advisory programs, wellness curricula, and guidance counselors.
At Fay, students take part in an advisory program that matches them with a faculty member, and students connect with their advisors each day to check in and make sure they they're on track. Advisors serve as a liaison to students' teachers, and they provide encouragement, support, and a "listening ear" throughout the students' time at Fay. The advisory program is complemented by a wellness curriculum that is part of every student's regular schedule and that focuses on the development of interpersonal skills, self-advocacy, conflict resolution, and stress management techniques.
While it's important to keep all of these features in mind as you consider whether the time is right to move your child from homeschool to a traditional school, what's most important is fit. As Susan Mantilla-Goin notes, "You know your child best, and a visit to campus will give you a great sense of whether a specific school is a place where your child can thrive."
Want to learn more about Fay School? Let us know!