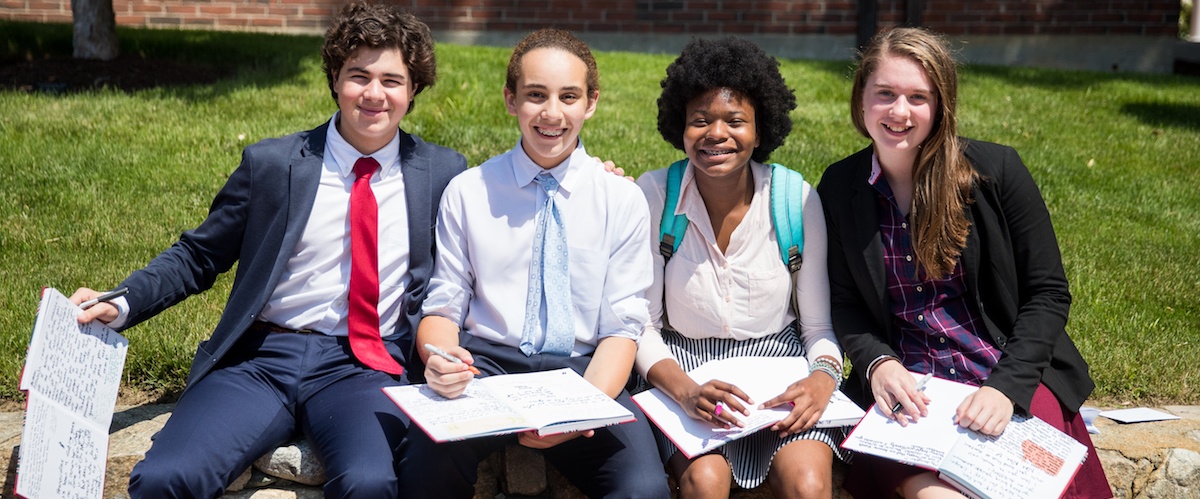 Parents embarking on the secondary school admissions process frequently hear school counselors and consultants talk about the importance of finding a school that's
the right fit
. As advice, that's hard to argue with, but as a goal, it's frustratingly short on specifics. What does that really mean, and how does a parent stay focused on finding the right school while navigating the flood of information, conflicting opinion, and emotion that accompanies the secondary school admission process?
Stu Rosenwald, Fay School's Director of Secondary School Counseling and Associate Head of School, has been guiding parents and students through the secondary school admission process for 28 years. Stu heads up a dedicated four-person secondary school counseling team that guides Fay's eighth and ninth grade students through every aspect of the admission process from selecting a balanced list of schools to preparing for school visits and interviews. Over his career, Stu has found that there are two essential hallmarks of a good secondary school match. "Specifically, you want to focus on finding a school where your child will continue to gain confidence and competence," he argues. "When a student is confident at school and in their academic abilities it allows them to explore other possibilities - talents and skills that they might not have considered," says Stu. The importance of that self-discovery process cannot be underestimated. "These are the discoveries that can potentially lead them towards the right career or add to the richness of their life after school."
So how do you find the school that will do this for your child? Stu offers the following advice to prospective parents and students:
Cast a wide net.
Families can get sucked into the "prestige" trap, becoming laser focused on the school on their list that has the best name recognition. Stu suggests that families should have a broad and balanced list of schools to consider. Ideally, the list should include some "out of the box" options like a single-sex or boarding option, even if your child is certain that's not for them. Every school that you look at - even the ones that you really don't like - will help you and your child better refine your sense of what you're really looking for.
Ask some hard questions.
While families spend considerable time preparing for the questions they will be asked by an admission officer, they don't think as much about asking some tough questions of their own. "Have a few interesting questions or hypothetical scenarios that you can pose at each school that you visit and listen carefully to the responses," suggests Stu. The answers can be illuminating and may offer a valuable way to start to compare different school communities.
Beware of parents bearing opinions.
You will find that other families, who are looking at the same schools, are eager to share their thoughts, opinions, and experiences - solicited, or not! "I've had two different families visit the same school on the same day, and one will think it's great and the other will say it's awful," says Stu, adding that it's frustrating when parents allow themselves to be influenced by another parent's opinion. "You may have very different children, so another parent's opinion of a school is not very helpful."
Look for a community where your child will be happy.
Happiness has been shown to be a powerful predictor of success. In a recent study of students in grades 4-12, researchers at Research Schools International found a strong correlation between happiness and students' GPA. When touring school campuses, Stu suggests taking the opportunity to talk to regular students and not just the tour guides. Briefly describe your child, his or her personality and favorite activities, and ask how that sort of student fits in within the school community. Ask students what they like and don't like about the school; also ask if there were one thing they could change about the community, what it would be. This can help you form a picture of whether your child would be a happy and confident member of the school community.
Make authentic connections with faculty and coaches.
If their child has a special interest or talent, parents will often try to connect with the faculty member or coach at a school to advance their child's admissions prospects. Stu advises families to approach this as a genuine opportunity to learn more about the school community. Ask detailed questions about the program, how the players and students are supported within the school community, and what role the coach or teacher will take in supporting the continued development of that student's skills.
Listen to your gut.
In addition to the research, the school visits, and the carefully considered questioning, you may also have an intuitive reaction to certain schools. "If you have a gut feeling that your child will be happy, comfortable, and ready to accept all that a program has to offer because his or her emotional well being is solid," says Stu, "that's a response you should pay attention to."
To see a list of the Top 25 schools where Fay students have matriculated in the past five years, and to learn more about the secondary school counseling process, click here.
Want to learn more about Fay School? Let us know!