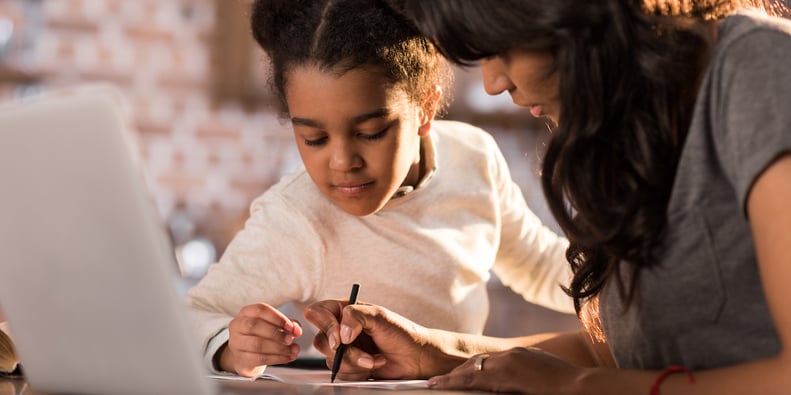 As parents tackle the unexpected challenges posed by COVID-19 - like stay-at-home advisories, a disrupted work schedule, lack of childcare, and lost sleep and anxiety over health and finances - the added pressure to keep children on track academically during remote learning can seem overwhelming. Opinion pieces like, "Why I Refuse to Run a Coronavirus Homeschool," and "What's Lost in the Rush to Online Learning," are cropping up in the media and reinforcing the sense that parents are being asked to do too much right now.
In her role as Fay's Director of the Educational Program, Julie Porrazzo believes that parents should not put too much pressure on themselves. "Don't feel guilty about believing that good enough is good enough right now," she says. Rather, she suggests that parents need to refine and reimagine their role and their goals for the distance learning process. Here are some of her tips for taking the stress out of distance learning at your house.
Relax: You are not the teacher.
Judging by the number of homeschooling memes circulating on social media, parents are not only feeling tremendous pressure to teach their children right now, they believe that they are failing miserably at it! That's just not true. In most school districts, the daunting challenge of adapting curricula on the fly and incorporating conferencing and social learning apps to replicate the classroom experience is thankfully still being managed by education professionals. At Fay, where the school has a robust distance learning program in place, Julie notes that the parent's role is to be a coach and a cheerleader rather than a teacher. Parents can be helpful by praising their child's effort when they work diligently on an assignment and encouraging them to stick with the math problem that seems impossible (the occasional hint is okay, too!). But, parents shouldn't assume the burden of being parent and teacher.
Help create a schedule.
With kids missing the regular school day schedule, parents can be invaluable in re-establishing a structure and a routine. Julie suggests that parents start with the framework of their child's distance learning plan and build a schedule around it for each day with a sensible bedtime at night and wake up time in the morning. Make sure that you incorporate "recess" breaks, lunchtime, homework time, practice time for an instrument, and/or creative time if your school is not providing art and music.
Strive for balance.
At times like this, it is easy for some bad habits to fill the void left by a regular routine. Parents can help by striving for a healthy balance of activity each day. Offset screen time, which there will undoubtedly be more of right now, with time away from devices. Compensate for a morning of sitting at a desk with time to run around outside, taking a bike ride, or going for a walk. While teachers and administrators worry about maintaining academic progress, parents can focus on managing their family's physical and mental well-being. Take advantage of the time to rest, create opportunities to connect with family and friends, and think about engaging in pro-social activities that help your children feel engaged and productive. Dedicated service is one of the core values at Fay, and Julie emphasizes the importance of reminding kids that there is a larger world outside their home and family. "Find creative ways of "filling your bucket" by doing something for someone else," suggests Julie. "It helps to alleviate anxiety and it reminds us that we are connected to others."
Realize that your children are learning different lessons right now.
Of course, parents are justified in worrying about their students falling behind in pre-algebra or not completing the required science curriculum, but kids also have a unique opportunity to learn some essential skills and habits of mind right now. "If parents step back and let children do the work and self-advocate when they need help," says Julie. "This can be an opportunity for kids to learn so much independence, perseverance, flexibility, and creativity." If we give students the space to practice these skills, we may look back on these weeks of missed classroom time and realize that nothing was lost after all.
Want to learn more about Fay School? Let us know!