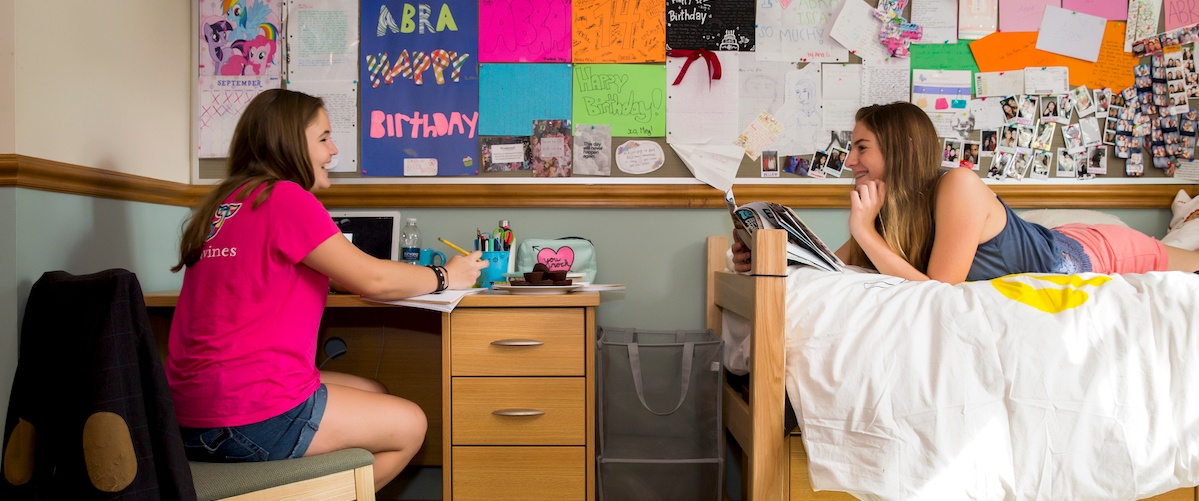 As any seasoned boarding student will tell you, there are always a few essential items that you'll need for boarding school. Here's the scoop on those extra items that are helpful to dorm life - and what you should leave at home.
Packing your child for their first year of boarding school is an emotional experience. Parents try to anticipate their child's every basic need for the term while also furnishing them with decorative items that they hope will make their child's room feel like a home away from home. Fay School, like most boarding schools, supplies a basic packing list for its boarding students, but as any seasoned boarding student will tell you, there are always a few essential additions to that list. We spoke with Fay's Director of Residential Life Max Bogaert to get the scoop on those extra items that are helpful to dorm life, the things to leave at home, and how parents can best equip their children to successfully navigate the boarding school experience.
A Savvy Boarding Student Packing List
There are always a few additional items that students end up wishing they had once they arrive on campus:
Many boarders find it helpful to get a

Brita Water Filter

or

Bottle

. At Fay, all dorm rooms are equipped with a refrigerator and students enjoy having cold, filtered water available whenever they want it.





Along the same lines, a small set of

reusable and washable dinnerware

that includes a few cups, a plate, fork, spoon and bowl is useful when students want a cup of water, a quick bowl of cereal, or a civilized way to enjoy their Saturday night pizza delivery.




Extra storage that fits under the bed

is also a smart addition to your packing list. "Some of the most organized kids are the ones that bring small plastic bins that they keep under their beds," says Max. "It's a great way to store the items that they don't need on a daily basis like extra toiletries so that their surfaces aren't cluttered with too much stuff."
Some extras just help a dorm room feel more like a home. While many students take fresh sheets and towels for granted at home, they won't once they get to school! Although the Fay packing list asks families to provide

an extra set of sheets and towels

, every year there are students who have to head to Target on the first weekend to purchase those essential items.
While many students bring posters to decorate their walls, Max has noticed that the rooms that hang

framed pictures

feel most like a student's home. "Even if it's just a small piece of framed art or a picture that reminds you of home, when you walk in those rooms it always feels more like a student's bedroom rather than just a dorm room," he says.
Finally, like Fay, most schools have rules about not damaging dorm room walls with holes or adhesives that pull off the paint. Pack a selection of

3M Command Hooks

that will allow you to easily hang and remove pictures and posters.
Less is more.
"The more stuff a student has, the greater the likelihood that the living space will be disorganized and that he or she will end up misplacing important belongings," cautions Max, so when in doubt, leave it at home. When you streamline what your child brings to school, you are making it easier for him or her to keep track of belongings, stay organized, and successfully navigate the challenges of living in a shared space.
Living space in most dorm rooms is at a premium, so additional pieces of furniture like beanbag and dish chairs and bulky plastic storage chests should be left at home and are explicitly forbidden in many schools. Similarly, when students are constantly receiving packages from Amazon or are frequently having items dropped off by parents, it can lead to a cluttered and unmanageable living space - as well as a cranky roommate!
Pack and prepare together.
Students can always benefit from some guided support in the packing and unpacking process. If you are helping your child move into the dorm room, make sure everything is labeled and organized to ensure that the unpacking process goes smoothly.
Labels and organization are especially important when a child is travelling to school alone. When they move into their room, new boarding students frequently find themselves learning some basic life skills on the fly such as how to fold a t-shirt, put sheets on a bed, and organize their clothing in a closet and drawers.
Families can take some of the anxiety out of this process by ensuring that students have some experience with these tasks ahead of time. "At Fay, our dorm parents are always there to help with this process, and we always teach our new students that organization is the key," says Max.
Want to learn more about Fay School? Let us know!