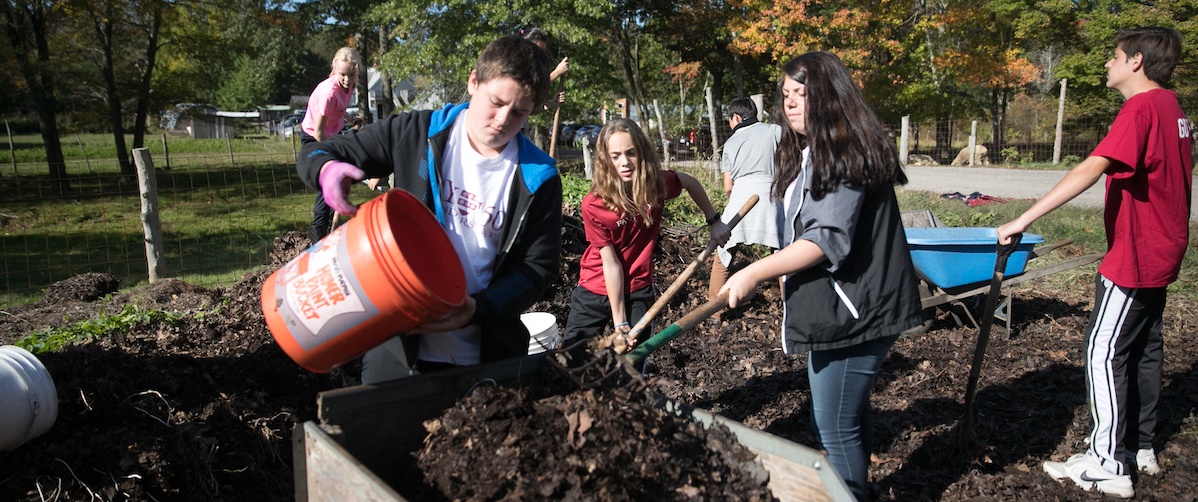 Most parents will agree that developing empathy and kindness in their children is just important as fostering cognitive and self-care skills. But families' busy lives often get in the way, and community service often makes it onto the list of "would be nice if we had the time."
Service shouldn't have to feel like a chore - or, worse yet, merely one more box to check off on your child's private school or college application. Meaningful service opportunities are everywhere if you know where to look.
Hands-on Service Opportunities
Finding a school that makes service learning a priority is one way to get started. Here at Fay, for example, part of our mission is to inspire students to go out into the world and make a positive difference. To that end, our teachers have moved beyond the traditional bake sale fundraiser (though we do those too, occasionally) to incorporate opportunities for meaningful service into our curriculum at all grade levels. The organizations listed below welcome individual volunteers, so you can contact them directly if you're interested in getting involved.
Our Primary School students take a day trip to Cradles to Crayons, a local nonprofit that collects and distributes clothing and school supplies to disadvantaged children--and that offers hands-on opportunities for young children to actively help with sorting clothes and toys.
In Lower School, students spend time picking and planting at the Community Harvest Project, a nonprofit farm in North Grafton, Mass where students help to tend and harvest fresh fruits and vegetables for those experiencing hunger in the local community.
In Upper School, our students spend one week of the school year engaged in community service. Seventh graders volunteer their time at local farms and other nonprofits. Eighth graders travel to New York City, where they volunteer at food banks and soup kitchens through the Youth Service Opportunities Project. And ninth graders travel to the Dominican Republic, where they spend a week teaching English in a local school through the nonprofit Outreach 360.
Julie Porrazzo, the director of Fay's educational program, stresses that the value of community service and service learning lies in the sentiment behind the experience. "It's not about feeling bad for someone," she notes. "It's about creating a human connection to an issue and understanding that everyone needs a roof over their head, clothes, and food." Bringing kids to a local food pantry or encouraging them to organize or contribute to a can drive at school can create that same important connection.
Harness Your Child's Hobbies and Interests
Another great way to explore service is by connecting it to your child's interests. Athletes and non-athletes alike at Fay enjoy volunteering at the Special Olympics basketball tournament that the school hosts each year. Our boarding students with a creative bent or an interest in building have enjoyed participated in Habitat for Humanity's Operation Playhouse project, where they build and decorate children's outdoor playhouses for families in need and local charities.
Group Service Opportunities
Encouraging children to volunteer their time as a group can be another valuable way to incorporate service experiences. Music groups can share their talents at a local hospital, or a sports team can volunteer their time together at a food bank or community clean-up day. It's a great way to expose kids to service and creates a bonding experience for the group. At Fay, our Upper Schoolers have forged a connection with the Southborough Senior Center and have hosted musical events where the seniors participate in a sing-along with our students as well as academic events where seniors have shared their experiences of living through a time of war.
Want to get going today? Start small! As a family, you can also gather outgrown clothing, books, and toys together and take them to a local charitable organization that accepts donations. "We do that in my family," says Julie, "and we talk about how we're not going to donate ripped or broken things because it's about having respect for everybody as human beings." She adds, "One of the greatest benefits of service is that children can learn other people's stories and develop a better understanding the different perspectives that we all have."
Want to learn more about Fay School? Let us know!