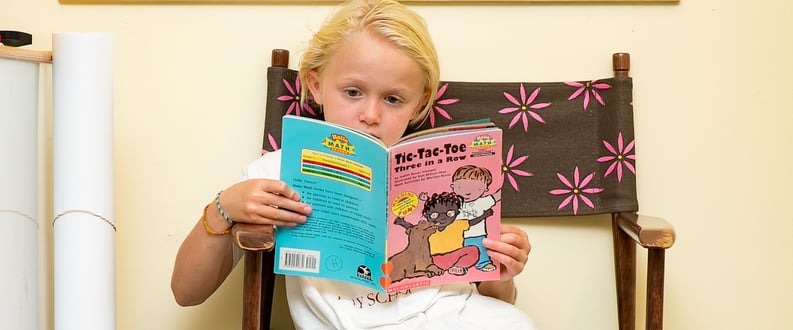 Reading aloud with young children is critical for brain development, language acquisition, and early literacy skills like storytelling and comprehension. However, we've all had days when the best intentions to curl up and read with your child are derailed. So what do you do on those days when it feels like there's no time to read? Fay's Speech and Language Therapist Jill Cordon and Reading Specialist Leslie Overbye share three simple tips for incorporating literacy-building activities into your family's busy schedule.
Supplement reading with audiobooks
Listening to audiobooks with your child when traveling in the car, making dinner, or during bath time is a great way to build literacy skills. "When children listen to a story - even if the book isn't right in front of them - they are picking up fluency and expression," says Leslie. They are also building vocabulary and nurturing a lively imagination as they visualize the action from the story in their mind. Discussing the story that you are listening to together builds their reading comprehension skills while still sending the critical message that reading is important, enjoyable, and a valuable way to spend time. Apps like Audible are an option for streaming books, but if you have a library card, you can also download the Libby app from OverDrive to stream thousands of audiobooks for free. At Fay, all of our students automatically have access to TumbleBooks and the LEA lending program, where kids can read e-books or have books read to them.
Encourage your children to tell stories
When you ask your children questions that solicit a story instead of a one-word answer, they are practicing critical literacy skills. Jill suggests that you replace bland conversation killers like, "How was your day?" with questions that encourage your child to zero in on a particular moment from the day and tell a small story. Some examples might be: Did anyone do anything silly at school that made you laugh? What was the best thing that happened today? Questions like this are not only more fun to answer - they teach children the importance of telling a complete sequential story with a setting, characters, a beginning, a middle, and an end. When young children leave out important pieces of information, parents can redirect them by asking questions or purposely misunderstanding them so that they have to fill in the details they left out. "There's a direct connection between a child's ability to tell a story and their ability to be a good writer later in life, "says Jill. "Reading is tied to listening, and writing is tied to speaking. They are the same language functions."
Let them make lists
Children love it when they are called on to perform useful tasks, and list-making is a great literacy builder. Leslie suggests keeping a pad and pen in your bag that you can hand them in the car or in the grocery store to make shopping lists or packing lists. Ask them to add items like carrots and milk to the list, and even if they only draw a letter "M,' a "K" for carrots, or draw a picture of the item, they are making important sound-letter connections. "It pulls the child right into reading, writing, and hearing the sounds," says Leslie.
Reading with your child is still one of the best activities to build early literacy skills, but like the suggestions above, the key is to make it part of your routine. "It's all about finding the time and making it a habit," says Leslie. "We're all going a million miles per hour, but you have to invest that time."
Want to learn more about Fay School? Let us know!