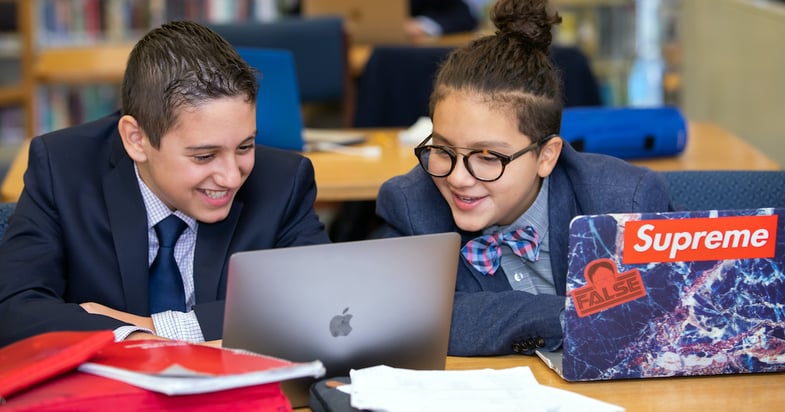 With schools moving to distance learning and families stuck at home, many media outlets are ready to call a winner in the long-running screen time battle between parents and kids. You guessed it, it's the kids!
Kids are logging more screen time than ever, and since apps and games have become an essential form of entertainment and social connection, many parents have temporarily lost the will to do anything about it. According to SuperAwesome, a kids technology company, children ages 6-12 are spending 50% more time in front of screens every day, and the same survey found that traffic to kids' apps and digital services increased by 70% during the month of March alone.
So, how do you make sure that all this screen time isn't opening your children up to a host of new security and safety vulnerabilities? Steve Jensen, Fay's Director of Innovation, oversees the school's technology strategy as well as security and privacy issues. He shares his tips for ensuring that your kids stay safe online:
Stay educated about the apps your children use.
Kids are constantly hearing about a hot new app or game from their friends that they have to get, but before you say yes, you should do a little homework. Many apps, like the ubiquitous TikTok, have raised some serious security and privacy concerns that parents should be aware of. Before allowing your children to download a new app, educate yourself about any potential dangers by taking the following steps:
Read their privacy policy to see what information they gather and how it is used. A common theme with many apps is that they require you to agree to release your personal information to them. The video, text, and images that you share now become their property to do with whatever they wish.
Search and read reviews, news articles, and any security or privacy warnings from the government. Check to see if any issues raised have been addressed by the app company.
Only use a new app right away if the device you are using does not contain private information or you are on your home network.
Make sure you always have the current password for your child's device and do random checks.
Phones and tablets are powerful tools. As your child matures, the learning curve on using those devices safely and responsibly only seems to get steeper and more perilous. "Once something has been posted, it's out there and nothing ever goes away," says Steve. "It's extremely important that parents teach their kids early on about the impact this could have on them in the future." When you first hand your child a phone or tablet, make sure you lay out the rules for how the device can and can not be used. Steve suggests:
Have the password or pin to access their devices at any time. You pay for the device and they are not yet adults, so you own the data and the devices. The safety of your child is more important than privacy.
Set rules for which apps can be used and when they are allowed.
Do random tech checks of the apps they use, what they are sharing, and what is being shared with them.
Be open and honest with your child (in an age-appropriate manner) so they understand the risks and why your rules are in place.
Open your kid's apps, even photo apps, once in a while. Some kids will use "ghost" apps to hide forbidden apps. They look like one app, but they are password-protected and reveal another app underneath.
Use technology as an ally.
A 2017 survey from Common Sense Media found that 26% of parents say they use a tracking or monitoring device or service to track what their teens do online. Steve suggests using a parental app on a child's device to restrict the apps allowed, screen time allowed, and age content level settings. There are a variety of different options from companies like Net Nanny, FamilyTime, Bark, Qustodio, Life360, Norton Family, Kaspersky Safe Kids, OurPact, Screen Time, ESET Parental Control, MMGuardian, Boomerang, Locategy family, and Mobicip. Your mobile carrier may also offer some controls you can utilize. Reach out to them to find out what is available.
Educate your child to be a responsible digital citizen.
In Fay's Lower School, students in grades three through six take Digital Literacy class as part of their regular schedule. In this course, students learn and practice all the technology skills that they need to be successful in their current and future classes as well as learning how to be safe and responsible users of technology. "When parents are aware and educated, they can teach their kids what to watch out for," says Steve. "Many apps provide real benefits and can enrich your online life. Just be careful, stay informed, and educate your children."
Want to learn more about Fay School? Let us know!