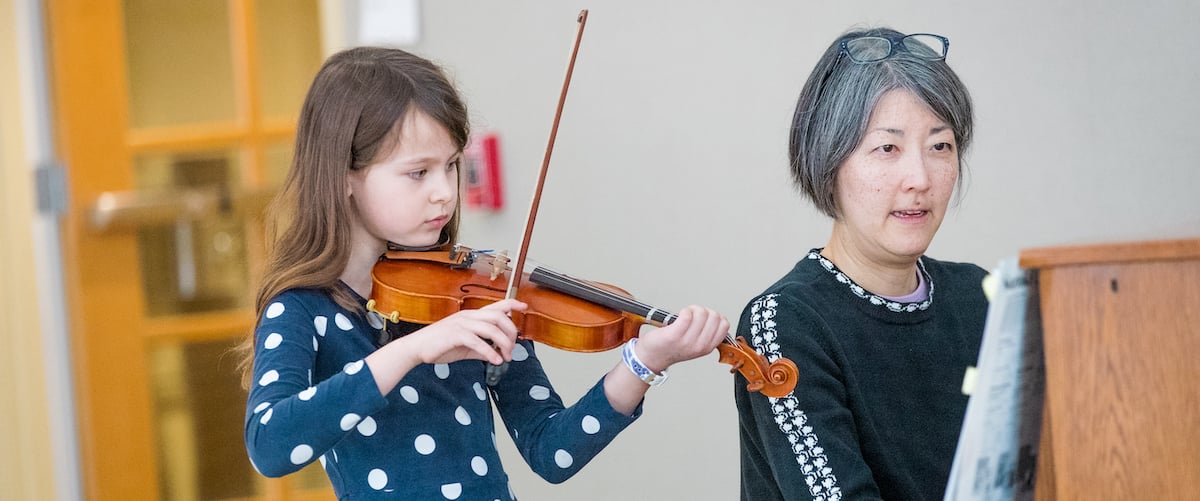 While parents of elementary-age children tend to focus on a school's literacy or math curriculum, art and music - the so-called specials - can fuel a child's academic development in ways that are equally essential to their success.
A University of Kansas study found that students in elementary schools with superior music education programs scored higher on standardized tests than students in schools with low-quality music programs. In fact, they scored a whopping 22 percent higher in English and 20 percent higher on math!

Research has also noted that regular visual arts education helps students develop higher-order thinking skills--such as visual analysis, the ability to learn from mistakes, and creativity--that will be critical to their success in every subject. So while art and music certainly fuel the imagination and self-expression, they also impart concrete academic skills. Here are four of the essential skills that your child will gain from a strong arts program.
Creative problem solving skills
Few subjects test a student's ability to adapt to unexpected challenges as well as art. What do you do when the picture is not fitting on the page, the proportions are off, or the materials aren't cooperating with the project? In Fay's Primary School, art teacher Cathy Gruetzke-Blais sees her students twice a week and structures assignments where there are multiple ways to achieve success, plenty of room for creativity, and a healthy dose of challenge. "Creativity is a 21st-century skill that is key to academic success," notes Cathy. "I encourage my students to follow their intuition, trust themselves, and take some risks. Through art, they can experiment and problem solve and the self-esteem they build in that process will carry over into their other classes." For example, in Cathy's second grade art class, students created woodland animals out of natural materials like rocks, feathers, corn and shells to connect to their study of the Wampanoag Indians. One student used twenty rocks to design a small bunny carefully stacking, evaluating, rearranging, and rebuilding when needed. "The brain is definitely working as the students are problem-solving and trying to get the rocks to balance," she says.
Interdisciplinary understanding
When students are encouraged to see the connections across art, music, science, and the humanities at an early age, they develop an intellectual advantage over their peers. "Arts and culture may elicit emotion and thinking in different ways from other subjects but they are also closely linked," says Cathy. "For example, students are applying math skills when they observe angles and proportions in their drawings, and they're putting the principles of physics to work when they are pulling and molding clay." Students who can conceptualize how all these ideas are ultimately linked will bring a deeper understanding and more mature perspective to their classwork.
Strong executive function skills
Fay's Primary music classes, which are taught by Arts Department Chair Philip Montgomery, follow the methodology of Hungarian composer and music educator Zoltán Kodály. Kodály believed that the study of music should fundamentally be a joyful activity, but it can also help students practice the concrete skills of planning, prioritizing, and managing multiple tasks at once. "When you are playing music, your eye is reading something, your fingers are moving, your ears are hearing, and it's all happening to a beat," says Philip. "This kind of multidimensional activity engages the prefrontal cortex, the part of the brain that's all about executive function." As students mature, the strength of their executive function skills in staying organized, focused, and on task will play a critical role in their academic success.
Active listening skills
Fay' Primary School students have music classes twice a week with additional opportunities for lessons in piano or violin after school. Philip notes that regular exposure to music is an excellent way to build active listening skills. For example, students in Philip's class are often challenged to listen to a melody or rhythm only once and then sing it back. This kind of exercise requires the children to listen in a different way than they might listen to a series of directions in class. "When the students know they have to repeat a tune or a rhythmic pattern, then they anticipate it and start to listen really carefully," he says. Drama also strengthens those active listening skills. The first and second grade plays are a highlight of the year for Primary School students, and not only do students have to learn their own lines and deliver them on stage, they also have to pay attention to their classmate's dialogue so that they know their cues to speak, move, and react to the action within the scene.

Wondering what your child should be listening to? The National Association for Music Education has a list of the 88 songs every child should know - you can click here to check it out.

You can also click here to learn more about how the arts are an essential part of the Fay School experience.
Want to learn more about Fay School? Let us know!