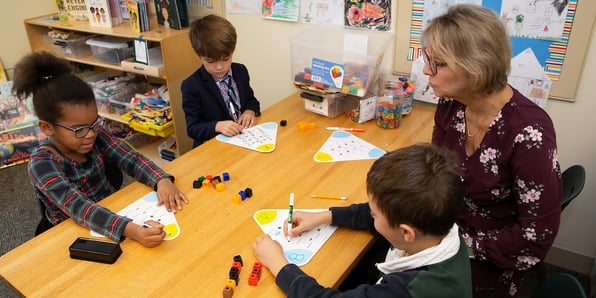 Everyone knows that the price tag of a private school education can induce a serious case of sticker shock. Let's face it, it looks positively extravagant when compared with the cost of its public school competitors. After all, isn't public school free?
While public schools may not charge tuition, the reality is that a high quality public school education is far from free. The idea that it is sidesteps the economics of public school funding and completely ignores all the à la carte extras that parents will find themselves paying for if they want to give their child an educational experience that is comparable to private school. Here are just a few of the costs that families need to factor into their budget when considering public school..
$ Housing Premium
Anyone who has ever shopped for a new home knows the effect that good local schools have on home prices. How much more will you pay to live in a highly-rated school district? In a study of the 100 largest metropolitan areas in the U.S., the Brookings Institute found an average swing of $205,000 in home price between houses near low-performing schools and houses near high-performing ones. In the highest-rated school districts—the ones where even wealthy families choose the public option— Trulia Research found home prices are 32% above the area average.
$ After-School Care
The high cost of after-school care is an unavoidable budget item for most working families. The frustrating misalignment of school schedules and the average workday requires parents to shell out over $4,000 a year on average for after-school care and significantly more than that if they want private in-home child care. Recognizing that after-school care is a necessity for many of its families, Fay recently decided to make its early morning and after school care programs free of charge to its families beginning in the 2020-2021 school year. Working families who are considering a Fay education will have the additional benefit of care coverage from 7:00 a.m. until 6:00 p.m.
$ Sports
In public school, the academic day may end between 2:30 and 3:00 p.m., but for busy parents, the evening routine of shuttling kids to and from sports practices has just begun. And the gas money from all that driving is the least of its costs. A recent study by The Harris Poll for TD Ameritrade found that 27% of parents surveyed spend $500 or more on children's sports expenses each month. An additional 7% of parents admitted to spending more than $1,000 per month. That's anywhere from $6,000 to $12,000 spent annually on town sports, travel teams, and special AAU programs!
Starting in fifth grade, Fay students participate in the school's interscholastic athletic program, with practices every afternoon and up to two games per week. Athletics are integrated into the school program at no additional charge, and with over 20 sports and 10 intramural options, there is a team or program to fit the athletic interests of almost every child. While parents certainly appreciate no longer having to pay for town and travel team sports, many also recognize the priceless benefit of having their evenings reclaimed for homework, dinner, and family time.
$ Full-Day Kindergarten
Although research has shown the importance of full-day kindergarten in building a strong foundation for educational success, many towns still require families to pay for choosing full-day kindergarten. In Massachusetts, the average cost of full-day kindergarten for the 2019-20 school year was $3,454. In fact, there are several towns in the Metrowest area surrounding Fay that still charge for full-day kindergarten, including Northborough, Holliston, Westborough, Wayland, and Shrewsbury.

$ The Nickels and Dimes
While the big ticket items like after-school care might get the most coverage in the media, parents know all too well that the persistent drip effect of paying for field trips, music programs, school play fees, and daily cafeteria lunches adds up, too. While Fay's family-style sit-down lunches are part of our school program, public school students are paying $450 or more per year for school lunch. Additionally, public school families face persistent pressure throughout the school year to participate in a wide variety of fundraising initiatives selling everything from wrapping paper, candles, soups, and more to subsidize the cost of school programs.
While none of this lessens the investment that a private school education requires, understanding some of the real costs of public school can help families start to make a fair economic comparison between the two.
Want to learn more about Fay School? Let us know!