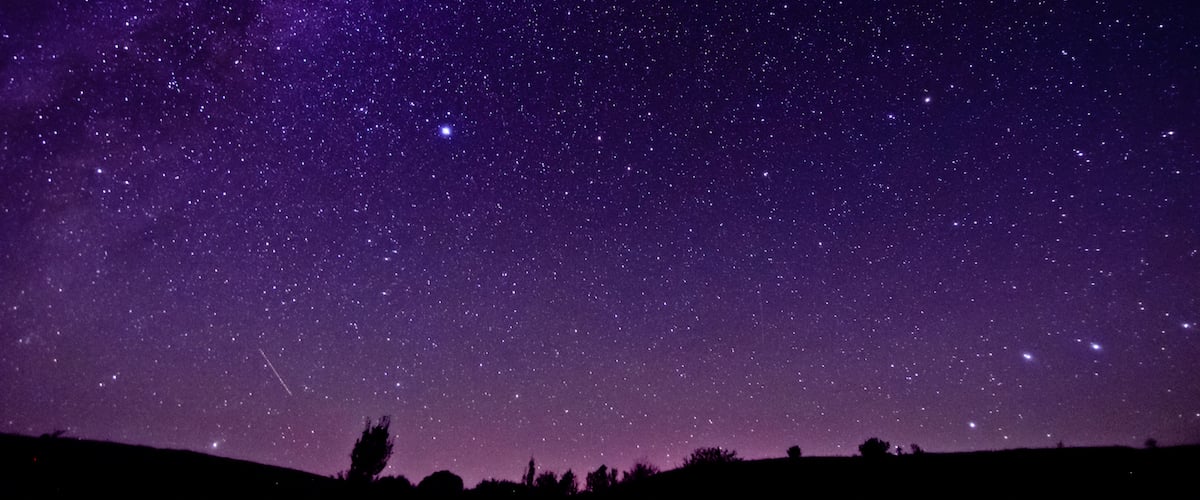 by Jay Besch, Upper School Music Teacher
When I was growing up, my parents worked for the State Department of the United States. This meant that I did not spend most of my childhood in America, but rather in other countries around the world. In seventh grade, my family moved to Egypt. Egypt is an incredible country with a rich cultural history and stunning landscape. My family has always been outdoorsy, and so when we were invited by friends to go camping in the desert we packed up our car and off we went.
My family had never been desert camping. Our friends taught us how to use GPS to navigate off-roads and how to dig pits in the sand to cook our food. They also taught us that we didn't need a tent to sleep in, just a rice mat and a sleeping bag. It is amazing what a difference that makes. Even though a tent is just a thin piece of plastic and some poles, it keeps you much warmer and makes you feel safer. But it also keeps you from seeing the stars. We camped far enough away any from cities or towns that there was almost no light pollution—and because it very rarely rains in the desert, there were no clouds to obstruct the sky. I cannot describe the skies that I saw over Egypt that night. I don't have the words to do so. I can only tell you how seeing those uncountable stars stretched across that unending sky made me feel.
Lying awake past when everyone else had fallen asleep, staring up into the universe, something changed inside me. It is cliché to say that I felt very small, although I did. Maybe it's more accurate to say that I clearly understood how very large the rest of existence is for the first time. I also felt a powerful connection to my small place in the world. I realized that my problems at school and at home were meaningless compared to the vastness that stretched out before me. It hit me that there must be something bigger in my life. I could aspire to better things than passing my math test and asking one of my peers to the school dance. There could be a larger purpose for me.
That moment was transcendent. The textbook definition of a moment of transcendence is an experience that takes you above or beyond your normal perception of reality. I briefly went beyond myself, and when I returned, I had been changed. Anyone can experience a moment of transcendence if they are open. These moments are fleeting but powerful, and they leave a lasting impact. Now, when I went back to school the next week, I still worried about the school dance (which ended up fine) and math (which didn't), but I had a new perspective on my daily life, and the idea of finding that larger purpose was always rolling around in the back of my mind.
I ended up finding that purpose through another moment of transcendence two years later, hidden in the music of Tomas Luis de Victoria, and a piece he composed in 1572 titled O Magnum Mysterium. When I was a freshman in high school, my choir director decided that it would the centerpiece of our Christmas concert. O Magnum Mysterium is a difficult piece of music to perform. It's in Latin, it's sung a cappella, and it is written in polyphony, which means that each of the four voice parts is singing its own melody at its own time, seemingly unconnected to the other voices. The most difficult part about singing this piece is that until you've learned it and perfected the harmonies, it doesn't sound very good.
The choir spent the vast majority of the fall not sounding very good. None of us particularly liked the piece, but we trusted our director and kept working on it. We spent time on it in every rehearsal, and for so long it seemed like we weren't getting any better. Eventually, it started to take shape, and all of of sudden it was late December and time for the performance.
As soon as the sopranos made their entrance and the piece began, something strange happened. I felt myself lock in with the people around me. I wasn't thinking about the notes that I had to sing, but about the music that we all were making together. And it didn't even feel like we were the ones making the music. What was happening felt inevitable. It felt like we couldn't make a mistake if we had wanted to, what we were doing was too perfect. What was happening to me was another moment of transcendence.
Now, to be clear, it was not a perfect performance. I heard a recording the next day and we made plenty of mistakes. But it turns out that the performance was never really the point. In the three minutes it took for us to sing that piece of music, I had found my life's purpose. In that moment, I knew that I wanted to spend the rest of my life connecting with people through singing.
Any moment in life can be meaningful. Any moment can be life changing. Sometimes a moment of transcendence happens on the mountaintop, after hard work and preparation and sweat and tears. Sometimes it doesn't take any of that—it just happens when you look up and see the stars. I can't tell you when your life will change, and I can't tell you what will spark that moment of transcendence. But I promise you, you'll know it when it happens. And when it does, I hope you listen and learn and change and grow. I did. It has given my life has meaning, and for me, that is enough.
Jay Besch teaches music in Fay's Upper School and conducts Fay's choral groups. These remarks were shared at a recent Upper School Morning Meeting as part of a faculty/staff speaker series based on this year's schoolwide theme, "Finding Meaning."
Want to learn more about Fay School? Let us know!