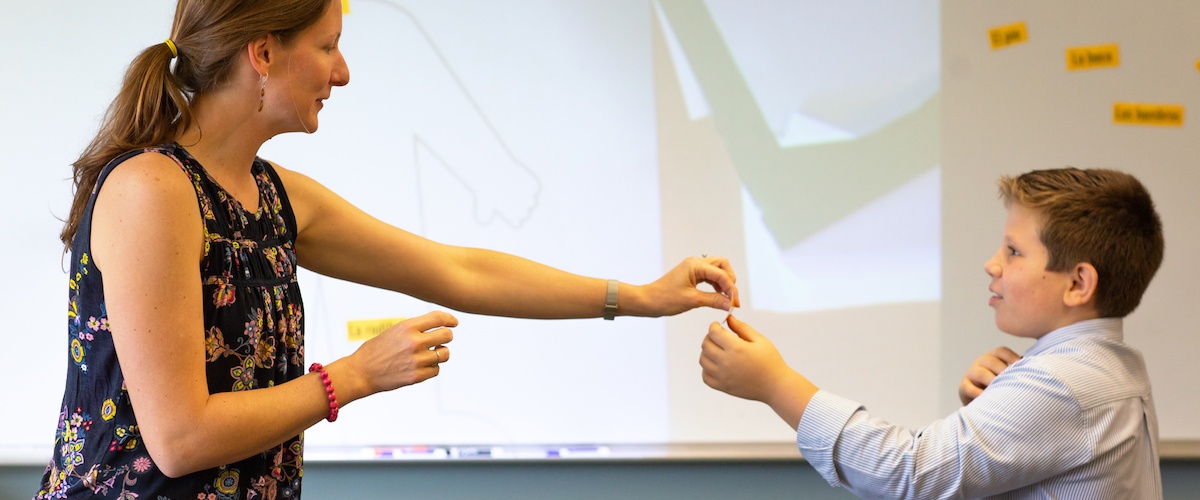 - by Fay's Primary, Lower, and Upper School division heads
This summer, our faculty read The Power of Meaning: Finding Fulfillment in a World Obsessed with Happiness by Emily Esfahani Smith. In her book, Smith outlines four stages of finding meaning: belonging, purpose, storytelling, and transcendence. With our students ensconced in daily routines of the school year and actively engaged in questioning, learning, and doing, we have begun to reflect with them on the power of story.
Children create and author their stories based on experiences and interactions with others, and the way children learn to tell these stories connects directly to their ability to find meaning in their own lives. When children feel known in their community, they feel more comfortable and confident, which enables them to be more successful in the classroom.
Our students are always seeking to connect with teachers and peers and let us know who they are. Here at Fay, we celebrate personal perspectives and provide opportunities for students to share their stories throughout the school day. In Primary School, children freely share personal stories in the homeroom either verbally or in writing, and on Mondays at the end of lunch, we ask "What's the News?" It is common for children to stand up in front of their classmates at lunch and tell us about a weekend hike, share details about a family celebration, or let the community know if their pet is ill. In Lower School, students share "I wonder" and "I notice" statements in Morning Meeting. In Upper School, students connect with faculty in advisory, in the dorms, or in individual teacher-student conversations. Our Community Connections meetings offer Upper Schoolers the opportunity to share personal stories in a safe space as they explore questions about diversity and inclusion.
At times, telling our stories comes with challenges. It can be difficult for a child to see a story from a different perspective, and as teachers and parents, we can help children examine their stories from new angles and find meaning. We want our students to define themselves through empowering stories so they can develop a positive outlook despite any challenges they might face.
It is also important to have times at home when your children can share their stories with you. Your responsibility is to listen and seek to understand. Consider these moments as opportunities to help your child reframe his or her story or to see it from another point of view. Our job is not to listen and "fix it," but rather to listen and help students process and gain perspective. As students get older, it may become more challenging to have these conversations, but it is essential for us as adults to create the space and time for them and to make ourselves available when those moments arise.
Ultimately, we must remember that each child is writing his or her own story. As the adults, we are here to help revise, re-think, and empower so they are ready to write the next chapter.
- Katie Knuppel, Head of Primary School; Lainie Schuster, Head of Lower School; Sarah Remsberg, Head of Upper School
Want to learn more about Fay School? Let us know!