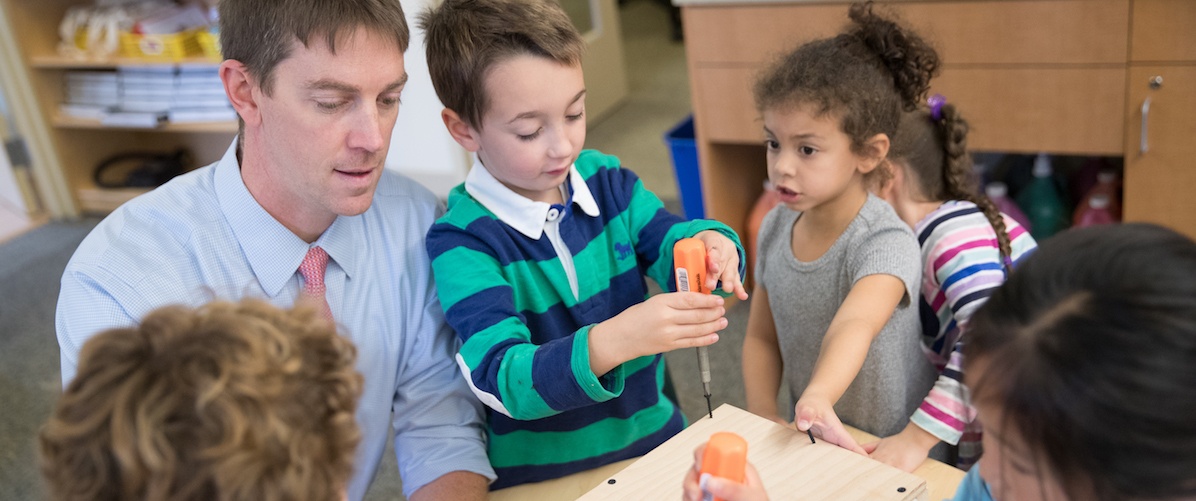 Kindergarten is the first formal step in your child's educational journey, but like most childhood firsts, it can raise a lot of questions for anxious parents. How will I know whether my child is ready for kindergarten? What does my child need to know before the first day? What does a good kindergarten program look like? As you start to weigh your kindergarten options, here are some factors to consider.
Is my child ready?
These days, most children have some sort of pre-school experience prior to starting kindergarten, so if you're wondering whether your child is ready for the next step, your most valuable resource may be his or her current preschool teacher. "The teachers can tell you if your child has those kindergarten readiness skills and whether they are socially and emotionally prepared for the greater independence that is required in kindergarten," explains Fay kindergarten teacher Lee Bogaert. When weighing this decision, you will also hear a lot of opinions about kindergarten readiness and the role of birth order and gender in determining when your child should start school. Just remember that there are no one-size-fits-all rules on this topic. Evaluate your child as the unique individual that he or she is.
Start exploring your options early
Entering kindergarten is a big step for your child, but also for you as a parent. This is the beginning of your journey shepherding them through their school years. Even if you are certain that your child will be entering the local public kindergarten, it's a great idea to look at the private and charter kindergarten programs in your area so that you can start to educate yourself about the strengths and weaknesses of different options. (If you're in Massachusetts, like us, two good places to start are the websites for the Association of Independent Schools in New England and the Massachusetts Public Charter School Association.)
Don't wait until the spring before school starts in September - take some time in the fall of your child's final year of preschool to tour different schools and ask a lot of questions. This is a perfect time to begin thinking about the educational environment that's the best match with your family's values.
What does a good kindergarten program look like?
When touring a kindergarten program, there are a number of factors to pay attention to. First is determining how much attention your child will get in the classroom. "Our small classes allow us to get to know our students extremely well," says Lee Bogaert. "It's rare in our classroom that everyone is doing the exact same activity at the same time. We do a lot of small group work targeted to the particular skills that students need to work on, and we tailor our program to meet each student exactly where they are."
Lee also suggests that you pay particular attention to the way a kindergarten classroom is set up. Are there different areas like a block area, writing area, and art area - and are they set up in a way that invites students to come explore? Is the classroom student-driven with the children's work and ideas up on the walls, or is it teacher-driven and decorated with generic education posters? "The bulletin board displays can reveal a lot about how the teacher views the activity of educating a child," says Lee.
Most kindergartens will post a daily schedule somewhere in the classroom. What does it look like? How often do students get to experience art and music? Is foreign language instruction an option? What about technology and engineering? (Here at Fay, for example, our kindergarteners have art and music twice in a six-day rotation and spend half the year studying French and the other half studying Spanish.) Finally, how much outdoor and free play time is in the kindergarten daily schedule? "At this age, it is so important for the children to be outside--to develop their motor skills as well as to practice their social skills. They learn so much from interacting with each other," says Lee.
What does my child need to know before the first day?
Most parents want to ensure that their child is equipped with the skills that they will need to be successful in kindergarten. Make sure that your child knows how to put on his or her shoes (lace-free shoes are helpful at this age) as well as their coat and cold-weather gear. Teach your child how to advocate for themselves before sending them off to kindergarten. Can they ask a teacher for a drink of water when thirsty or to go to the bathroom when they need to? Parents are often very good about reading to children at this age, but it is also helpful if you take the time to discuss what you read with your child. "Pause when you are reading and ask them what they thought about what just happened in the story or what they think will happen next," says Lee. "These conversations help prepare kids for the same kinds of interactions they'll have in the classroom." You can build numeracy skills at home, also, by finding opportunities to introduce different counting patterns to your child. When playing hide and seek, ask your child to count by tens to 100 instead of from 1 to 10, for example, or ask them to count backwards. "It's good for children to understand that counting isn't always 1, 2, 3."