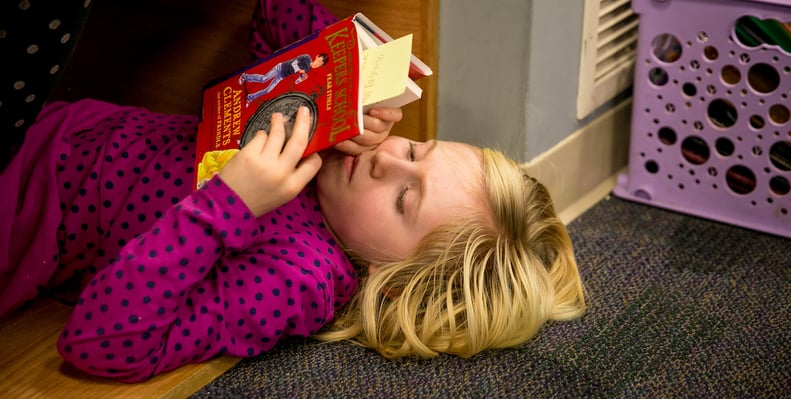 Was there ever a better time to get lost in a good book? As author Anna Quindlen wrote, "Books are the plane, and the train, and the road. They are the destination and the journey. They are home." Even though many of us are feeling cooped up at present, books have the power to take us on unexpected journeys and provide a welcome escape from a reality that can feel unsettling.
Inspired by The New York Times' list of "comfort reads" for adults, our Fay School librarians Haimin Luo and Carol Knowles have compiled a list of "comfort reads" for kids. On this list, you'll find books that shape a healthy perspective on the world as well as colorful and unforgettable characters to be met. There are stories with lessons about life, how we encounter hardship and inequality, and the power of friendship. Finally, there are plenty of opportunities to dive into exotic worlds and new adventures. Happy reading!
Primary School: Ages 5-7
The Invisible String by Patrice Karst and illustrated by Geoff Stevenson
When twins Liza and Jeremy run to their mother during a scary storm, she comforts them by telling them about the Invisible String, which connects people who love each other no matter where they are.
Bonus: Hear Primary School Librarian Carol Knowles read The Invisible String.
Quiet by Tomie DePaola
While observing the busy world around them, two children and their grandfather take a moment to appreciate being quiet and still. This book encourages children to slow down and use their five senses, to see, listen, smell, hear, and touch, and to appreciate the world around them.
I Am Peace by Susan Verde and illustrated by Peter Reynolds
A child starts to get carried away with worry and rushing thoughts before taking a breath, steadying, observing thoughts, feeling kindness, feeling thankful, empathy, and experiencing the world. This book can be a great way to incorporate mindfulness during a time of uncertainty.
Listen by Holly McGhee and illustrated by Pascal Lemaître
This poetic picture book inspires empathy by showing the connectedness of everything on Earth, a particularly apt message when so many people are missing the familiar activities and routines of daily life.
Zen Shorts by Jon J. Muth
When Stillwater the giant panda moves into the neighborhood, he encourages three siblings to look at the world in new ways. These three short stories provide a great opening for discussions about anger and forgiveness, wealth, manners, imagination, patience, luck, and other big ideas.
Alexander and the Terrible, Horrible, No Good, Very Bad Day by Judith Viorst and illustrated by Ray Cruz
On a day when everything goes wrong for him, Alexander is consoled by the thought that other people have bad days too.

The Complete Tales of Winnie the Pooh by A.A. Milne and illustrated by Ernest H. Shepard
Full of heart and humor, these stories introduce children to the lovable characters of Pooh and his friends Piglet, Eeyore, and Tigger and are a wonderful read-aloud to share with your child.
Lower School: Ages 8-11
Charlotte's Web by E.B White
This short but thought-provoking classic about a girl, a pig, and a perceptive spider appears simple at first but addresses important themes of life, death, family, values, and happiness.
The Lion, the Witch and the Wardrobe by C.S. Lewis
Who doesn't love the idea of a portal to other worlds with magical things to discover, new friends to make, strange creatures, and everything covered in snow? This beautifully-written classic introduces the world of Narnia - and "opens the door" to the six-book series.
The Phantom Tollbooth by Norton Juster
We all get bored from time to time, but Milo's journey helps us understand how much fun there is to be found all around you. "That's the battle in life," says the author himself, "to keep yourself fresh to those things so that you're always aware."
The Harry Potter Series by J.K. Rowling
An obvious choice, but any list of comfort reads would be incomplete without it! The Harry Potter series is a great escape from reality as young readers get lost in the wizarding world. With a rich array of colorful characters, mystery, adventure, and lessons about friendship and heroism, now is the perfect time to take a journey to Hogwarts.
The Little Prince by Antoine de Saint-Exupery
What is important in life? Learn about love, loss, friendship, loneliness, laughter, compassion, truth, and more in this classic, about a young price on his own planet.
The One and Only Ivan by Katherine Applegate
Inspired by a true story, this novel is told from the point of view of a gorilla and perfect for reading aloud. The human-animal relationship at the center of this story poses important questions about empathy, hope, and how to make a difference in the world.
Out of My Mind by Sharon Draper or Wonder by R.J. Palacio
These beautifully written tales feature kids with disadvantages who still embrace life with compassion. The stories, which focus on empathy and accepting differences, are great starting points for discussions with children about how they are and who they want to be.
Upper School: Ages 12-15
Esperanza Rising by Pam Muñoz Ryan
From wealth to poverty, Esperanza is thrown from a privileged life in Mexico into the life of a migrant worker in Depression-era America. The story provides a meaningful and engaging introduction to the topics of discrimination, harsh living conditions, worker's rights, racial/gender issues.
A Man Called Ove by Frederick Backman
Ove is a grumpy, stubborn, and unlikeable old man who, despite himself, makes a positive difference in the lives of the people in his neighborhood. The story provides a great opportunity for teens to consider what it means to be a good person and a good friend.
To Kill a Mockingbird by Harper Lee
Teens may find that this Pulitzer Prize-winner has a slow start, but it's hard to not get caught up in this compelling classic about race relations and social justice, which takes place in the Depression-era South.
The Giver by Lois Lowry
In this dystopian classic, a boy named Jonas is selected to be the Receiver of Memory in an authoritarian society marked by strict rules and traditions. The story raises important questions about brainwashing, individuality, and what it means to be free.
The Secret Garden by Frances Hodgson Burnett
Newly-orphaned Mary moves from India to England, where she begins a solitary new life on her uncle's estate. When she finds a secret walled garden that she can make her own, she learns important lessons about friendship, patience, and hope.
Want to learn more about Fay School? Let us know!