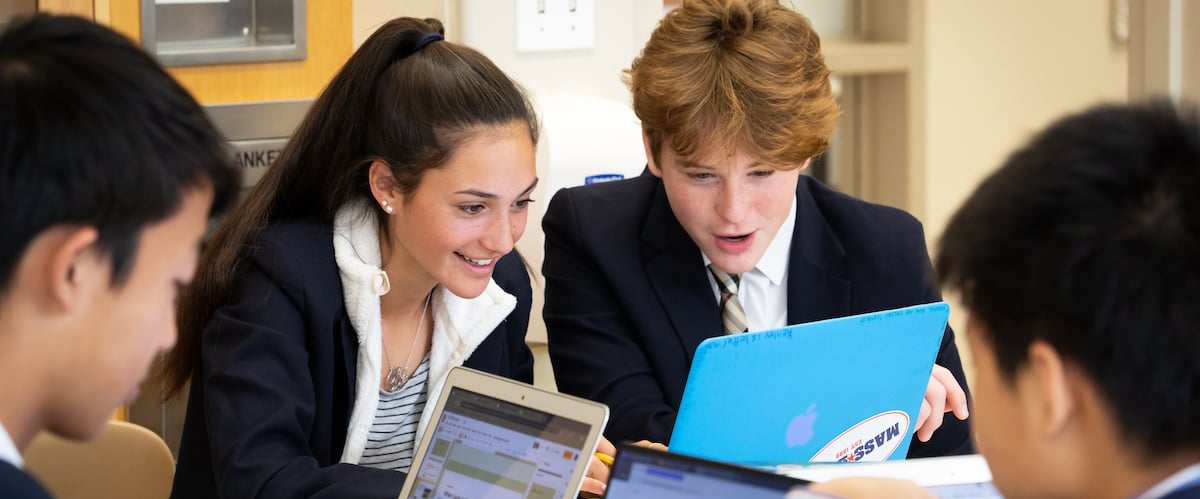 Single-sex education is experiencing a resurgence in popularity. Although research on its benefits has been largely inconclusive, the argument that boys and girls are hard-wired with different learning styles that should be accommodated can feel compelling to a parent who wants to make the best educational choice for their child. What is often missing from this discussion, however, are the significant benefits that students of both genders gain from a coed learning environment.
At Fay, where the gender balance of our student body in Kindergarten through grade nine is almost 50/50, we believe that coeducation equips our students with important life skills, nurtures an understanding and appreciation for differences, and creates a rich learning environment where students with different strengths and abilities learn from one another. Students at Fay experience the best of both worlds. They have the opportunity to enjoy single-gender experiences like Upper School advisory groups, Wellness classes, and interscholastic athletics while learning and growing within a larger coeducational community.
Here are four reasons to consider a coed school for your child.
Preparation for a coed world
Students who are confident collaborating, competing, and engaging with members of the opposite sex are well prepared to succeed in their next school and in the real world. Life is not segregated by gender, and learning how to work alongside different kinds of people is an essential skill that is natural and comfortable when learned at a young age but challenging to acquire as an adult. "Boys have to learn how to relate to girls and girls have to learn how to relate to boys," says Fay's Head of Lower School Lainie Schuster. "It's optimal when we can foster that skill under the watchful eyes of caring faculty members."
A rich academic environment
The old axiom that girls are better at reading and writing while boys are stronger in math is still being debated today. But, whether differences actually exist, leaning into them by educating girls and boys separately may be the wrong approach. In fact, research suggests that a coeducational environment can actually subvert some of those assumed differences. In a classroom where girls comprise the majority, a study found that boys saw a significant improvement in reading scores. It's a phenomenon that Lainie has witnessed in her students in grades 3 - 6. "It's one thing to read strong vocabulary, but it's another to use it in oral communication," she says. "When you have a mixed-gender group, the strong readers - and they do tend to be female - are infusing the discussion with strong vocabulary, and the boys pick it right up." In Fay's Lower School math classes, visual models, manipulatives, creative projects, and writing about mathematical thinking reinforce computational work so that every student has the opportunity to perform to their strengths while stretching their abilities.
Similarly, some parents wonder whether their energetic boy will thrive in a traditional classroom environment. At Fay, we believe that all students are engaged by an active academic environment where they are immersed in creative learning projects, hone their public speaking skills by leading and participating in rich discussion, and whenever possible are using their own hands and imaginations to build and create. Girls and boys learn from each other and benefit equally in this environment, and when academic awards are given out each year at Fay's Prize Day, the ratio of boys winning awards to girls is almost 50/50.
Exposure to diverse interests
A coed environment deemphasizes gender-based stereotypes by exposing kids to the broadest possible range of intellectual, extracurricular, and athletic opportunities and interests. Programs that might fail in a single-sex environment due to low numbers can flourish in a mixed-gender setting, providing kids with the opportunity and confidence to explore new interests and bond with students of both sexes over shared interests. At Fay, a few girls interested in trying wrestling recently joined the predominantly male team, receiving the support and encouragement of their teammates. But what about the athletic boy who thinks he needs to go to an all-boys school because the quality of the sports will be better? With twice as many boys vying for the same number of spots on a varsity team, good athletes can also find themselves relegated to the JV squad at an all-boys school. At Fay, not only do we have a no-cuts policy that allows our students to play the sport of their choice, we have a strong reputation in a wide variety of sports. Matt Greene, Head Coach of Boys Varsity Soccer notes, "Our boys soccer program is a great example of the strength and depth of Fay athletics. We fielded four strong teams in boys soccer this year, with Varsity A finishing 12-1, including wins against three all-boys schools, and our JV team going undefeated. Overall, the record for our boys soccer program this fall was an impressive 31-5-10." The wrestling team also placed first in the Cardigan Mountain Wrestling tournament this year, besting five single-gender schools in the process!
Katie Knuppel, Head of Fay's Primary School, previously taught at two single-gender schools in New York, the all-girls Chapin School and Buckley School for boys. She worries that voices expressing a diversity of interests are sometimes lost in a single-gender environment. Take the all-boy lunch table, where the conversation is dominated by video games. "At a mixed-gender table, it's unlikely that those kinds of topics dominate," says Katie, "and that allows students to hear different perspectives and voices."
Developing strong social skills
In a coed environment, students have the opportunity to develop stronger social skills. A study of elementary school-age students who were paired with a "buddy" of the opposite gender each week to learn and play found that those students exhibited greater social competence and less aggression, were less exclusive, and showed better social skills towards both genders. In Fay's Wellness curriculum, students in Lower and Upper School have the opportunity to discuss sensitive topics like bullying, conflict resolution, and peer pressure in mixed groups; they also break into single-gender groups when appropriate. "When we have a small group of kids discussing a difficult social situation, those mixed-gender conversations are often richer, tend to be more empathetic, and include a variety of perspectives that you don't get with a single-gender group," says Lainie.
Want to learn more about Fay School? Let us know!