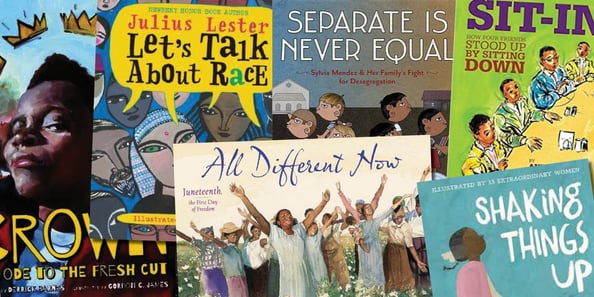 by Katie Knuppel, Head of Primary School
Children's books can be a wonderful tool for sparking conversation and introducing concepts like inequality and racism to young children.
This summer, after poring over many book lists, talking with faculty and families, and collaborating with our Primary School Librarian Carol Knowles, we put together this book list, entitled, Mirrors, Windows, and Sliding Glass Doors, that focuses on themes of identity, race, and anti-racism to share with our families.
The metaphor "windows and mirrors" was first coined by Founding Co-Director of SEED, Emily Style, and it is used by many educators to design curriculum that is a mirror, reflective of a child's experience, and also a window into a new world and understanding. Later, Rudine Sims Bishop, Professor Emerita of Education at The Ohio State University, expanded the metaphor to include sliding glass doors explaining that, "Books are sometimes windows, offering views of worlds that may be real or imagined, familiar or strange. These windows are also sliding glass doors, and readers have only to walk through in imagination to become part of whatever world has been created and recreated by the author."
When creating the list, it was difficult to stop adding books! We wanted to include a variety of experiences and genres, and we placed high importance on books that represented authentic voices. Most of the books included are picture books along with a few early readers and early chapter books. When possible, we encourage parents to read these books with their children as some may require them to provide important historical and/or cultural context. To scaffold these reading experiences, we are also sharing 10 Tips for Reading Picture Books with Children through a Race-Conscious Lens to help parents pose questions that engage children in the reading and fuel discussion about race and representation. This summer, we'll be having those discussions with our Fay Primary School students in our virtual summer book club. Once a week, for five weeks, I will be reading aloud selections from the Mirrors, Windows, and Sliding Glass Doors list, and afterward, we will discuss each book, and students will have the opportunity to share their thoughts, questions, and ideas.
We hope that as parents read these books with their child, the texts will lead them to discover many more titles, and hopefully, many more mirrors, windows, and sliding glass doors!
Katie Knuppel is the Head of Fay's Primary School division, which includes students in Kindergarten through grade two.
Want to learn more about Fay School? Let us know!