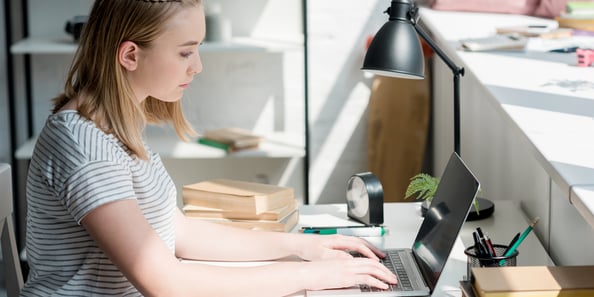 Is there anything better than a snow day? You sleep in, wear your pajamas until noon, let the kids play a little too much Xbox and graze on junk food. It's fine because it's just for one day, right? Well, what happens when you are suddenly looking at days, weeks, or months of unstructured time at home?
That's the situation facing families around the world as cancellations, closures, and the need for social distancing force growing numbers of parents and children to work, learn, and hunker down at home for the foreseeable future. While kids may have initially greeted this unplanned school vacation with glee, it can also be a real source of anxiety and stress. Kids are used to a routine, and familiarity is comforting.
As we all try to navigate this unique parenting challenge together, we're sharing some of the best advice we've seen on how to create a daily routine that will keep all this downtime from turning into lost time.
Revisit the house rules.
Parents should start by taking a good look at their usual house rules and consider what needs to be added and adapted for the current situation. Do rules around technology use need to change? Are there additional chores that family members need to take on? Keep your normal weekday bedtimes and wake-up times the same to create continuity, but explore the elements of your routine that may need to change. Sit down as a family and give everyone a chance to discuss their concerns and what each person's role should be in helping the household run smoothly. After you agree on a revised set of family rules, post them in a common area for everyone to see.
Build a schedule and stick to it.
Kids may complain at first, but they crave routine. Depending on your child's school, they may be providing required or suggested distance learning assignments. Use your school's particular plan as a starting point and build a schedule around it tailored to your child's learning style and interests. Enrich the schedule with lessons and activities from the wide variety of free educational websites and apps that are available to parents. Like their daily school schedule, their new at-home weekday schedule should have set time blocks for each activity period and incorporate lunch, some outside time, and a balance between work that involves screen time and non-electronic academic activities.
Create a dedicated workspace.
The kitchen table might be fine for the nightly homework routine, but for daily at-home learning, students need a fixed and dedicated workspace that is free from distraction and encourages focus. Work with your child to choose and create a space in the house where they can be organized with access to the supplies they will routinely need. This can also be a fun way to kick off your at-home learning journey together and get kids excited about this unexpected (and hopefully brief!) detour in their academic journey.
Send them outside!
Make sure that your daily routine includes outside time every day. Kids are missing out on recess, gym class, and organized sports, and while it's hard to replicate many of those experiences at home, the spring weather offers increasing opportunities to get some fresh air and exercise and take a break from the house. While observing social distancing rules, kids can still walk the dog, go for a run, ride their bike, shoot hoops in the driveway, or join you on a nature walk or hike.
Create social time.
For all our usual parental complaints about FaceTime, texting, and TikTok, now is a great time to use every tool in your technology arsenal to keep your kids connected to their friends and family. Encourage your kids to use technology to actively engage with their friends every day (rather than passively scrolling through their Instagram feed.) Have them set up a regular Google hangout, Zoom recess, or FaceTime chat group so that they can stay connected to each other, even if it is just virtually. And don't forget to do the same thing for the grandparents!
Finally, be flexible.
With all the talk about schedules, rules, and routines, it's important to stay responsive to everyone's needs. Incorporate more outside time on the days when everyone is getting stir crazy and relax the technology rules occasionally if the kids need a break (or you do!) Many parents are building a free choice time block in their child's daily schedule where they can take a deep dive into a topic they want to learn more about. This is a great time to encourage some self-directed learning and discovery. For most families, the usual hectic pace of life doesn't allow a lot of time for free choice, so view this as an opportunity for them to learn, build, explore, practice, and create.
Need more ideas? Visit Fay School's Parent and Student Resources for Distance Learning page.